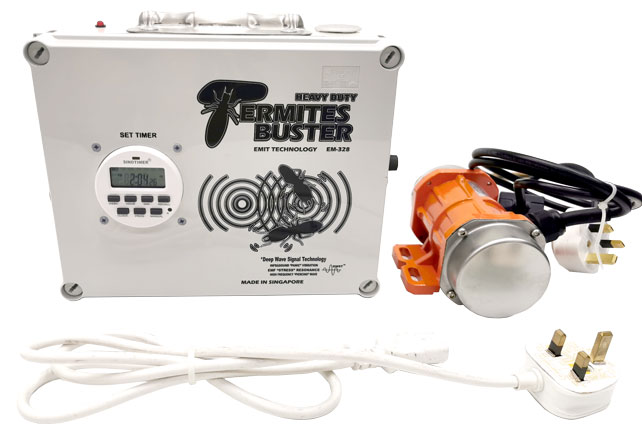 Model: EM-328 Heavy Duty Termites Buster

Size:
Dimensions: H200 x W240 x Depth 100 mm
Material: ABS Plastic
Effective Radius: 12m (24m Diameter)
Voltage: 220/240V, 50/60Hz
Weight: 2.7kg

Description: ENTA HEAVY DUTY TERMITES BUSTER
Heavy Duty Termite Buster is a revolutionary device that employs "Deep Wave Signal Technology DWST" technology to create an invisible barrier. DWST combines four different type of waves to repel against termites & many other pests. Many years of research has been put into this device to make it a success.
Now we have an effective "non-chemical" tool against termites.
Low Frequency "Panic Vibration" mimicking Termite Head Banging wave

Infrasound "Panic Vibration" mimicking Seismic vibration wave

High Frequency "Piercing" Ultrasound wave

EMF Stress Resonance magnetic wave
Key Features:
Protects and prevent termite from creating a colony within the zone of influence.
Repels exisitng termite population.
Suitable for repelling rodents and other crawling insect pests.
Suitable for repelling bats and birds too.

Applications:
Residential
Schools and Colleges
Places of worship (e.g. Temples, churches, mosque..)
Public spaces
Hotels and Restaurants
Warehousing and storage
Leisure centers
Termite Buster Video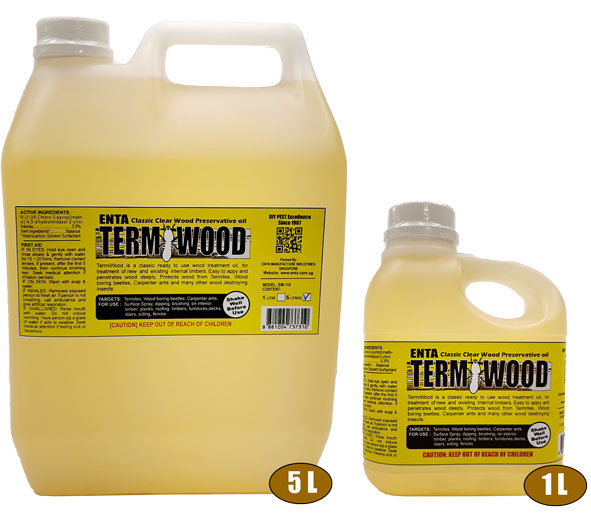 ENTA TERMIWOOD
(EM-110)
Model: EM-110

Description: ENTA TERMIWOOD (Classic Clear Wood Preservative Oil)
Available in 1kg & 5kg packing.
Key Features:
Ready-To-Use. No dilution required.
Protects all kinds of timber, wood board, bamboo, rattan and forest products from insect pests like pinhole and shot hole borers, powder post beetles, ambrosia beetles, drywood/subterrain termites and wood worms and other wood boring insects.
It offers 3 years to 5 years residual efficacy.
It can be used for dipping, brushing, spraying treatments.
It has low odor and is non-staining.
Features: TermiWood is a classic ready to use wood treatment oil, for treatment of new and existing internal timbers. Easy to appy and penetrates wood deeply. Protects wood from Termites, Wood boring beetles, Carpenter ants and many other wood destroying insects.Protects wood from termites, wood boring beetles & Carpenter ants. Offers 3 to 5 years of residual efficacy.
DIRECTION FOR USE

Dilution Rate: No dilution is needed; product is ready to use.
Brushing Application: 2-3 strokes (approximately 200 – 300ml of TermiWood per sqm)
Dipping Application: Completely immerse the object to be treated in a tank, bucket or other vessel full of TermiWood for at least 1 minute.
Spray Application: Use 200 – 300ml of TermiWood per sqm